Biography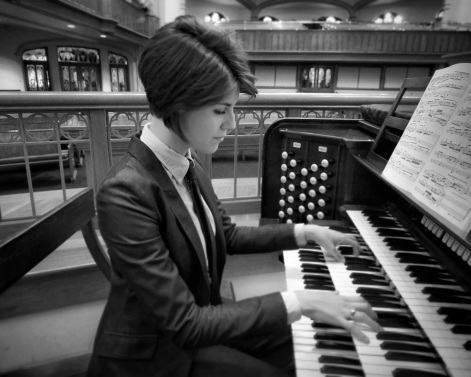 Michelle Horsley is an organist and collaborative artist whose musical endeavors have taken her into diverse artistic involvements across the world. A member of a very musical family, Michelle began piano lessons at the age of 5 and began playing organ in churches at the age of 12. As a teenager, she held many church positions in the Tampa Bay, Florida area and performed regularly with her father and brother, who are also organists. Noticed by the press, the family of organists was the subject of a
feature article
in the Tampa Bay Times. At the age of 17, Michelle and her family performed a concert of their own unique transcriptions of major organ repertoire and incorporated various synthesizers in addition to a pipe organ - the only concert of its kind - at the distinguished Palladium Theatre, downtown St. Petersburg, Florida.
After dual-enrolling in a local college and receiving an Associate's degree upon completion of her high school curriculum, Michelle continued her music studies at Stetson University and was awarded membership to the music honor society of Pi Kappa Lambda. She graduated Magna Cum Laude in May of 2012 with a Bachelor of Music in organ performance. At Stetson, she received a full tuition scholarship to study under the direction of Dr. Boyd Jones. In further recognition of her academic and artistic excellence, Michelle is a Florida Bright Futures Scholar and a recipient of the William E. Duckwitz Scholarship. At Stetson, she regularly performed as organist for chapel services, various ceremonies, and concerts, and was an active collaborative artist in the School of Music. Under Dr. Boyd Jones, she has also had several years of harpsichord training and was the primary continuo player for the Stetson University Chamber Orchestra. With this ensemble, she has accompanied various major works including Purcell's Dido und Aeneas and Vivaldi's Four Seasons, under the baton of Maestro Anthony Hose. She also regularly accompanied the Choral Union, a 100-voice choir under the direction of Dr. Peter Durow and the Concert Chorale, an elite vocal ensemble under Dr. Alan Raines.
Originally from St. Petersburg, Florida, Michelle has traveled extensively through Europe and Central America and has lived in several other countries. In 2004, Michelle and her family spent a year in Segovia, Spain for the sole purpose of experiencing another culture and acquiring a new language. Michelle further fueled her interest in cultures and language with a semester of music study at the Paedagogische Hochschule in Freiburg, Germany in 2011. During this time, she traveled throughout Europe, attended organ conferences, met other organists and played on a variety of historical instruments in Germany, Denmark, Holland and the Czech Republic. In Freiburg, Michelle became the jazz pianist of the university big band and sang in the school choir. She also had the opportunity to compose for and perform in a small, new music ensemble which focused on the works of John Cage. Michelle's involvement in new music and composition stemmed from her time at Stetson, where she wrote and premiered a variety of works including Whirlybirds for two pianos, and Thus Spokes Zarathustra for piano and bicycle wheel.
Most recently, Michelle completed her Master of Sacred Music at Duquesne University in May of 2014 where she studied under the tutelage of Dr. Ann Labounsky and served as the organ department's Graduate Assistant. She was also the recipient of the Jean Langlais Award in Sacred Music upon graduation. During her studies in Pittsburgh, Pennsylvania, she held the position of Director of Music Ministry at the Presbyterian Church of Plum Creek where she conducted a small group of vocalists, accompanied all services, contracted with instrumentalists, directed and wrote the script for a children's Christmas program, founded a weekly children's music program which emphasized improvisation and invention, planned a summer concert series, and directed a large Lenten Passion production with pit orchestra and a cast of 50 volunteers. In 2013 she accepted the position of Choir Director/Organist at St. John's Lutheran Church of Highland where she directed a 25-voice adult choir for weekly services and large seasonal productions, in addition to co-directing a children's ensemble. There, she conducted the choir and soloists in the Easter cantata, The Green Blade Riseth by Searle Wright and the children's choir in a production of her grandfather's jazz cantata about Noah's ark, titled 100% Chance of Rain.
As a longtime, active member of the American Guild of Organists, Michelle has frequently performed in concerts and organized area events. She was very involved in coordinating Duquesne University's 2012 conference, Charles Tournemire: Chant and Improvisation in the Liturgy. Michelle also organized and participated in the 2013 Organ Studio to France which included collaboration with the Order of Saint Benedict at Solesmes Abbey and masterclasses in Paris with Jean Philippe Leguay, Daniel Roth, John Gillock, Susan Landale, Eric LeBrun, and Hampus Lindwall, among others. Her graduate recital was hosted in April, 2014, by Don Fellows at St. Paul Cathedral in Pittsburgh, PA. She specializes in the chorale preludes of Vincent Persichetti and the symbolism within these works, specifically the lesser known chorale on
Give Peace, O God
. Her thesis,
The Significance of Liturgical Symbolism in the Modern Chorale Preludes of Vincent Persichetti
is in the process of revisions before pursuing publication. She hopes to continue conducting research regarding symbolism within 20th century organ works, particularly in the choral prelude genre within modern practice.
She currently resides in Seattle, Washington.
---