Biography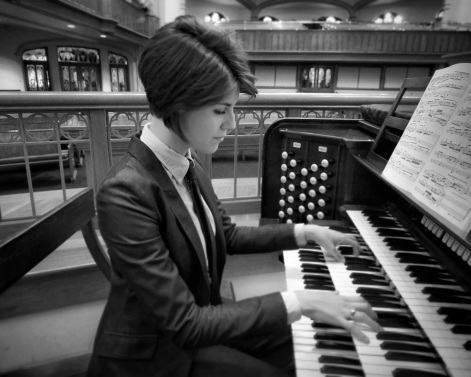 Michelle Horsley Parker (n
ée Horsley)
is an organist and collaborative artist whose musical endeavors have taken her into diverse artistic engagements across the world. She has served churches of various sizes in St. Petersburg (FL), Pittsburgh (PA), Seattle (WA), and Avon (CT) in positions of musical leadership and has extensive experience both leading and accompanying choirs in religious, educational, and community environments. Michelle holds a Bachelor of Music in Organ Performance from Stetson University and a Master of Sacred Music from Duquesne University.
A member of a very musical family, Michelle began piano lessons at the age of 5 and began playing organ in churches at the age of 12. As a teenager, she held many church positions in the Tampa Bay, Florida area and performed regularly with her father and brother, who are also organists. Noticed by the press, the family of organists was the subject of a
feature article
in the Tampa Bay Times. At the age of 17, Michelle and her family performed a concert of their own unique transcriptions of major organ repertoire and incorporated various synthesizers in addition to pipe organ - the only concert of its kind - at the distinguished Palladium Theatre, downtown St. Petersburg, Florida.
After dual-enrolling in a local college and receiving an Associate's degree upon completion of her high school curriculum, Michelle continued her music studies at Stetson University, graduating in May of 2012 with a Bachelor of Music in organ performance. At Stetson, she received a full tuition scholarship to study under the direction of Dr. Boyd Jones. In further recognition of her academic and artistic excellence, Michelle is a Florida Bright Futures Scholar and a recipient of the William E. Duckwitz Scholarship. Distinguished by the Stetson University School of Music faculty as "Sophomore of the Year," Michelle has also consistently been named to the Dean's List. At Stetson, she regularly performed for chapel services, various ceremonies, and concerts, and was an active collaborative artist in the School of Music. Under Dr. Boyd Jones, she also had several years of harpsichord training and was the primary continuo player for the Stetson University Chamber Orchestra. With this ensemble, she accompanied various major works including Purcell's Dido und Aeneas and Vivaldi's Four Seasons, under the baton of Maestro Anthony Hose.
Originally from St. Petersburg, Florida, Michelle has traveled extensively through Europe and Central America and has lived in several other countries. In 2004, Michelle and her family spent a year in Segovia, Spain for the sole purpose of experiencing another culture and acquiring a new language. Michelle further fueled her interest in cultures and language with a semester of music study at the Paedagogische Hochschule in Freiburg, Germany in 2011. During this time, she traveled throughout Europe, attended organ conferences, met other organists and played on a variety of historical instruments in Germany, Denmark, Holland and the Czech Republic. In Freiburg, Michelle became the jazz pianist of the university big band and sang in the school choir. She also had the opportunity to compose for and perform in a new music ensemble which focused on the works of John Cage. Michelle's involvement in new music and composition stemmed from her time at Stetson, where she wrote and premiered a variety of eclectic works including Whirlybirds for two pianos, and Thus Spokes Zarathustra for piano and bicycle wheel.
In 2014 Michelle received her Master's degree in Sacred Music from Duquesne University where she studied under Dr. Ann Labounsky and also served as the Graduate Assistant for the organ department. While completing her graduate studies, she held the position of Director of Music Ministry at the Presbyterian Church of Plum Creek, where she created a children's music ensemble and directed several large-scale cantatas. Michelle later served as the Organist/Choir Director at St. John's Lutheran Church of Highland where she directed an adult choir of 25-30 singers for all traditional worship services in additional to choral concerts. While at Duquesne University, Michelle coordinated all chapel services, organized curriculum, and created a graduate handbook for future sacred music majors. She also helped to organize an organ studio trip to France where she and her colleagues attended masterclasses and played organs at Saint Sulpice, Notre Dame, St. Trinite, Notre Dame d'Auteil, St. Denis, La Madeleine, among others. The Duquesne organ studio also traveled to the Solesmes Monastery for an extensive study of chant with Benedictine monks. Michelle's thesis title is
The Liturgical Symbolism of the Modern Chorale Preludes of Vincent Persichetti
and she performed her graduate recital at St. Paul's Cathedral in Pittsburgh, PA. At her graduation, Michelle was presented with the Jean Langlais Award for Excellence in Sacred Music.
After completing her graduate work, she moved to Seattle where she took the position of Organist at Seattle First Baptist Church. There, she provided music for all worship services, worked with soloists and chamber ensembles, and accompanied the 60-voice sanctuary choir in services as well as major choral concerts (including Bach's Magnificat and Leonard Bernstein's Mass). She introduced many new musical programs to the church such as
A Solstice Contemplation
,
Notes of Gratitude: A Thanksgiving Concert
,
The Seven Last Words of Christ: A Good Friday Musical Meditation, Dueling Organists,
and
A New Year's Cabaret.
She also gave several programmatic post-compline organ recitals at St. Mark's Episcopal Cathedral including
Meditations on War and Peace
and
Meditations of Lost and Found
. While at Seattle First Baptist Church, Michelle premiered over 25 original compositions and arrangements. She also performed with the Seattle Philharmonic in several concerts as a guest organist. While in Seattle, Michelle also served as the accompanist for Diverse Harmony, the nation's first and largest queer-straight alliance youth choir which consists of a 50-voice chorus as well as an auditioned, a capella, 16-voice ensemble called Spectrum. She was the main accompanist for the combined youth choir for the GALA Convention of 2016 in Denver, CO. Michelle also served as a board member on the Seattle Chapter of the AGO.
In 2017 Michelle moved to New Haven, Connecticut, where she currently resides with her partner in life, Dr. Ned Allyn Parker. They were married at Yale Divinity School in November of 2017. She is the Director of Music at St. Matthew Lutheran Church (ELCA) in Avon, where she directs an adult choir, oversees children's music programming, and coordinates special music events. She is member of the Hartford AGO chapter and serves of the Jolidon Grant Committee, which distributes substantial annual funding for organ study and diverse musical programming through New England. Michelle has a private piano studio in her home, where she teaches students of all ages. She also does freelance work as a recording artist, guest organist/pianist, and music educator throughout Connecticut.
---